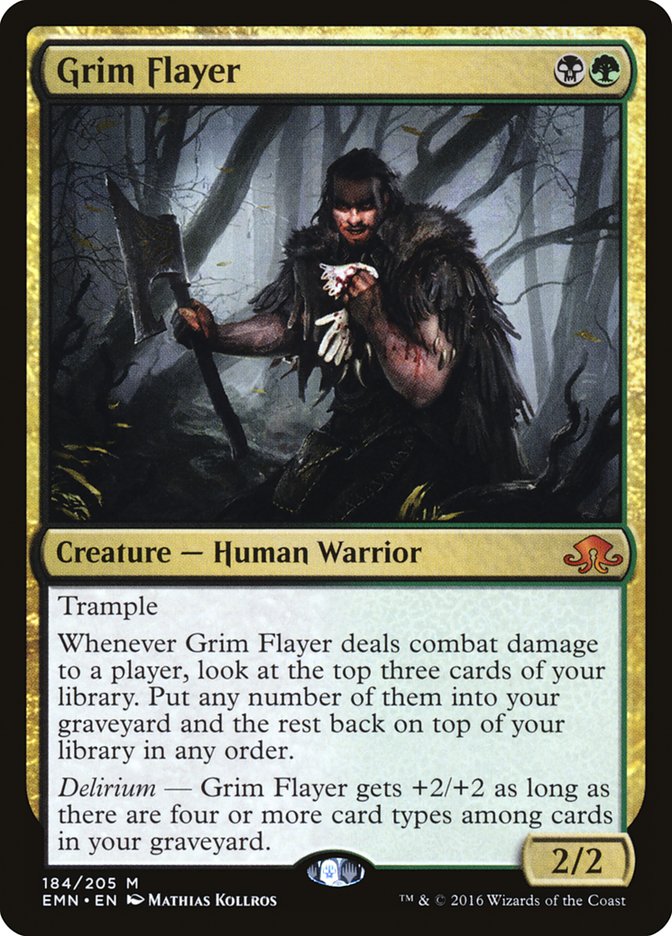 When this card first came out, we already know it is a good card but finding a home for it is definitely not easy. Delirium requires the controller to have 4 or more card types in the graveyard, which is not hard to achieve in Modern. Jacob Wilson recently won MOCS with a unique build of Jund that plays Grim Flayers instead of Dark Confidants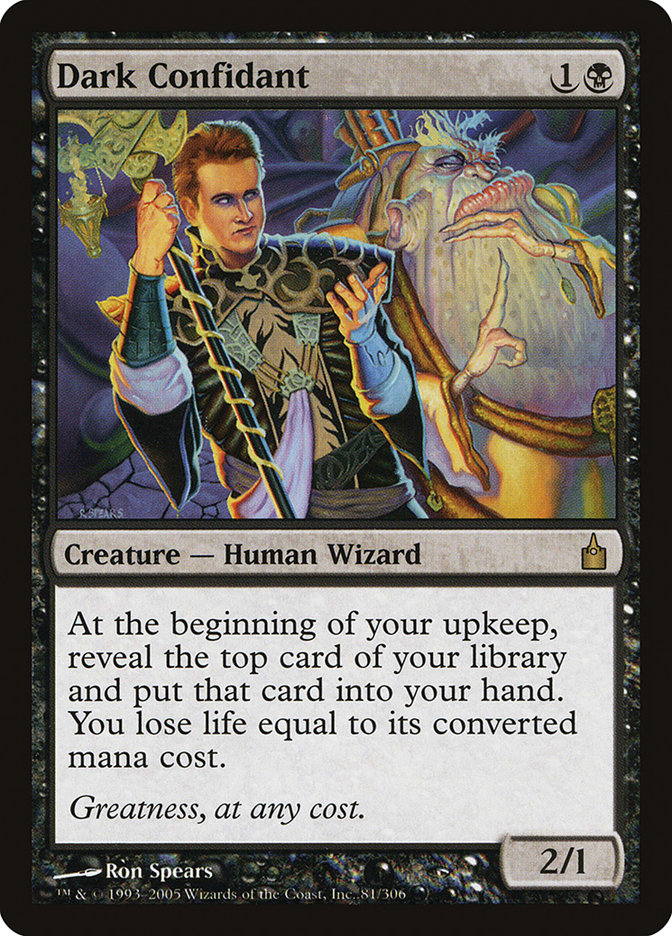 . Here's Jacob Wilson(ZYXWVUTSRQPON)'s MOCS winning list:

Grim Flayer Jund
ZYXWVUTSRQPON (1ST PLACE)
MODERN MOCS #9989138 ON 08/13/2016

Planeswalker (4)
4 Liliana of the Veil
Creature (11)
4 Grim Flayer
1 Kalitas, Traitor of Ghet
2 Scavenging Ooze
4 Tarmogoyf
Sorcery (10)
4 Inquisition of Kozilek
2 Lingering Souls
2 Maelstrom Pulse
2 Thoughtseize
Instant (8)
1 Abrupt Decay
4 Lightning Bolt
3 Terminate
Artifact (1)
1 Mishra's Bauble
Enchantment (1)
1 Seal of Fire
Land (24)
4 Blackcleave Cliffs
1 Blood Crypt
4 Bloodstained Mire
1 Copperline Gorge
1 Forest
1 Godless Shrine
2 Overgrown Tomb
1 Marsh Flats
3 Raging Ravine
1 Stomping Ground
1 Swamp
4 Verdant Catacombs
Tribal instant (1)
1 Tarfire

Sideboard (15)
1 Scavenging Ooze
2 Thoughtseize
2 Ancient Grudge
2 Fulminator Mage
2 Golgari Charm
2 Kitchen Finks
3 Nihil Spellbomb
1 Painful Truths

With the amount of burn and zoo decks around, Grim Flayer might be a good replacement for Dark Confidant now. When there is Delirium, Grim Flayer is your Goyf #5-#8 and can basically block every creature in Burn and Zoo decks. Besides making the B/G/x decks better against red aggro decks, Grim Flayer is actually good against combo decks as well. In B/G/x decks, they have a sideboard that can basically deal with most of the decks provided that the pilot is able to find them during games. So, Grim Flayer can actually help to dig into specific answers very quickly, or at least ensure your next draw is good against your opponent.

Besides Jacob Wilson's list, we can actually see quite alot of Grim Flayers in Top 64 of Modern GPs last weekends. Moving forward, I believe they are going to be staples in B/G/x decks. *quietly stocking up Grim Flayers*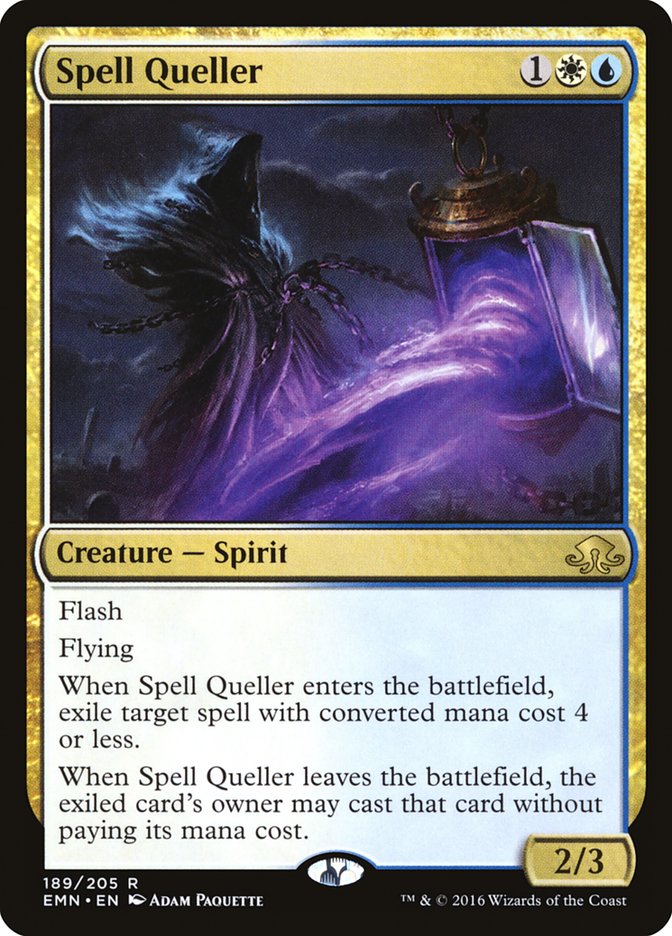 Spell Queller is another card that caught most people's attention when it is spoiled on mythicspoilers. We all already know Spell Queller is a good addition to Bant CoCo in Standard but how about Modern? Let's have a look at Kelvin Chew's Bant Knightfall which brought him to Top 8 of GP Guang Zhou:

KELVIN CHEW'S BANT KNIGHTFALL
TOP 8 GRAND PRIX GUANGZHOU 2016

Creature (27)
4 Birds of Paradise
1 Spellskite
4 Spell Queller
3 Voice of Resurgence
2 Qasali Pridemage
2 Scavenging Ooze
3 Noble Hierarch
2 Selfless Spirit
4 Knight of the Reliquary
2 Courser of Kruphix
Instant (8)
4 Path to Exile
4 Collected Company
Enchantment (3)
3 Retreat to Coralhelm
Land (22)
1 Breeding Pool
1 Stomping Ground
1 Hallowed Fountain
1 Temple Garden
3 Forest
1 Plains
4 Misty Rainforest
1 Ghost Quarter
1 Gavony Township
1 Kessig Wolf Run
4 Windswept Heath
1 Horizon Canopy
2 Flooded Strand

Sideboard (15)
1 Scavenging Ooze
1 Ghost Quarter
3 Negate
2 Worship
3 Izzet Staticaster
3 Kitchen Finks
2 Blessed Alliance

This deck is similar to Modern Abzan CoCo deck - its a Combo and Aggro deck at the same time. If you haven't know the combo inside this deck, its a two card combo between Knight of the Reliquary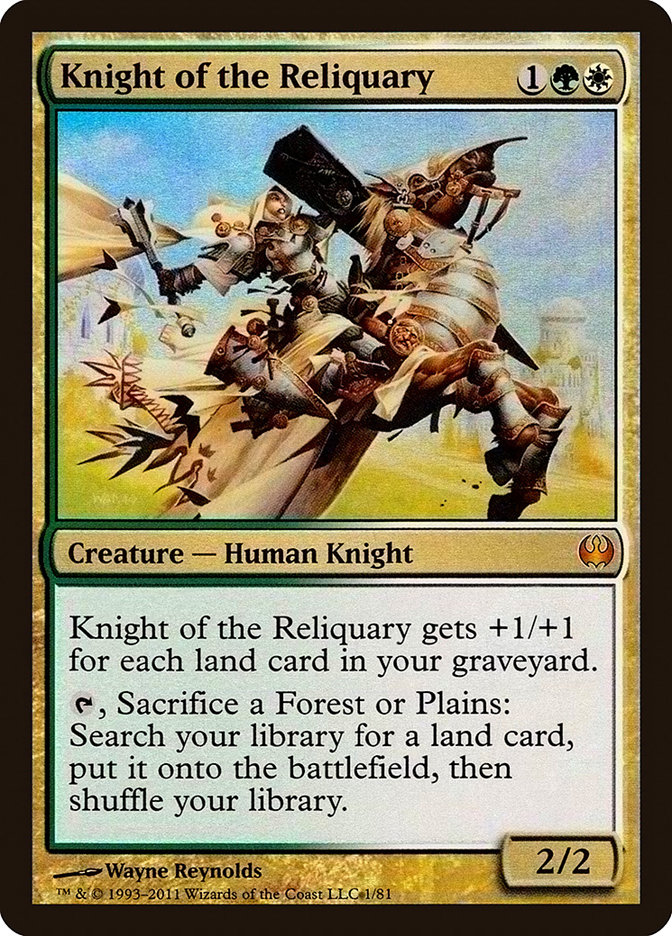 and Retreat to Coralhelm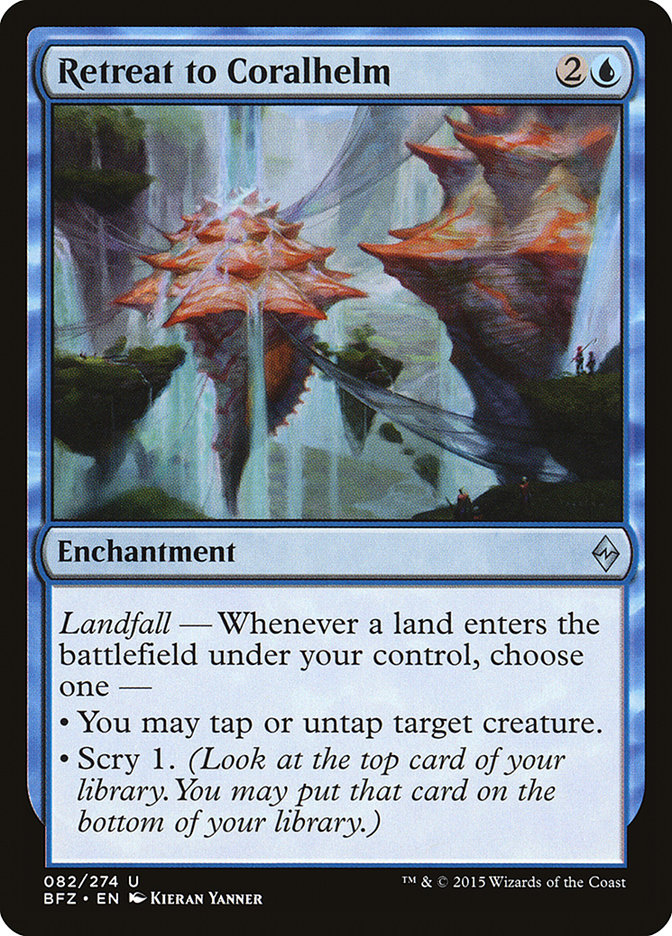 . The idea is to put plenty of lands into the graveyard by repeating Knight of the Reliquary's ability with the help of the blue enchantment to untap it, and then fetch for Kessig Wolf Run to give the Knight trample. Usually, combo decks will have cards to protect their combo such as Spellskite and Counterspells. Spell Queller not only can protect the deck's combo, it is also able to counter sweepers or removals whenever necessary.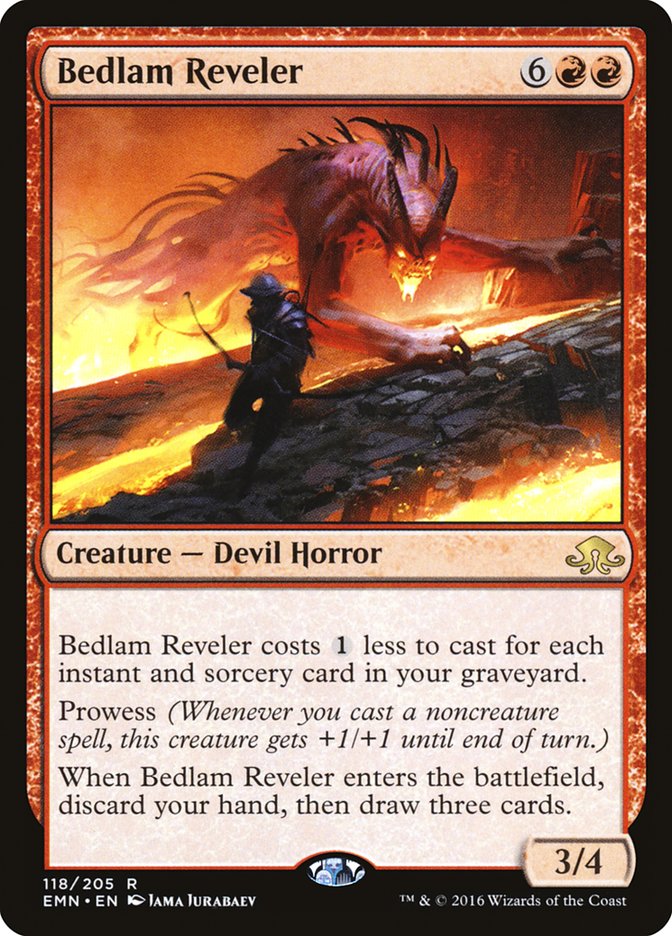 This card is not very popular yet in current Modern meta. However, if you are playing Modern on MTGO or you constantly watching MTGO streams or videos, you will probably notice there are some U/R Delver decks that plays Bedlam Reveler running around on MTGO. Ever since the bannings of Treasure Cruise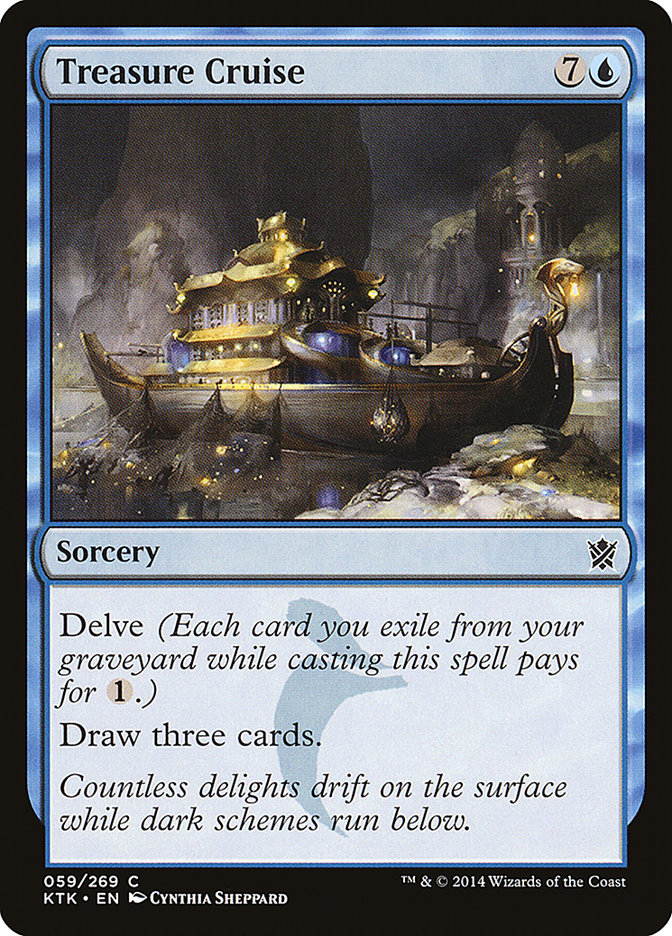 and Dig Through Time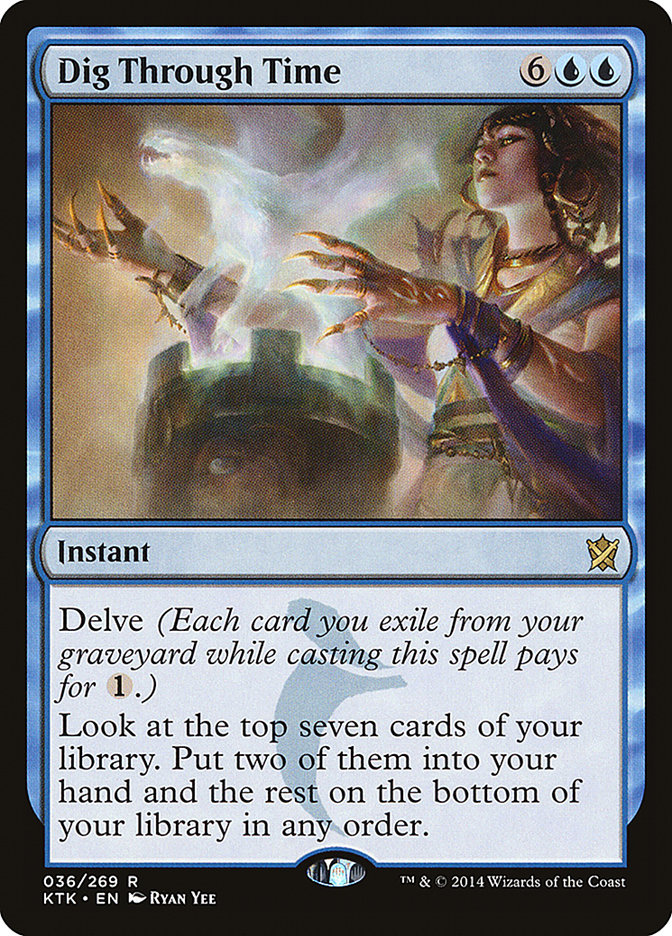 , U/R Delver went on hiatus from the Modern metagame. But now they returned with the addition of Bedlam Reveler:

Blue Red Delver
ERKS (5-0) MTGO

Creature (14)
3 Bedlam Reveler
4 Delver of Secrets
1 Grim Lavamancer
2 Snapcaster Mage
4 Young Pyromancer
Sorcery (10)
2 Flame Slash
4 Gitaxian Probe
4 Serum Visions
Instant (18)
1 Harvest Pyre
2 Izzet Charm
4 Lightning Bolt
3 Mana Leak
2 Spell Snare
4 Thought Scour
2 Vapor Snag
Land (18)
1 Bloodstained Mire
3 Island
2 Mountain
4 Polluted Delta
4 Scalding Tarn
3 Steam Vents
1 Sulfur Falls

Sideboard (14)
1 Grim Lavamancer
2 Blood Moon
3 Dragon's Claw
1 Forked Bolt
1 Grafdigger's Cage
1 Negate
1 Smash to Smithereens
2 Spell Pierce
1 Spreading Seas
1 Threads of Disloyalty

This list is taken from one of the most recent MTGO event. Just to let you know, some version of the U/R Delver plays Monastery Swiftspear, while some plays Young Pyromancer like what you saw in the list I provided. As we know, Delver decks play alot of cheap and effective cantrips and removals, so they can actually fill up their graveyard quickly to cast Bedlam Reveler for 2 Red mana. Bedlam Reveler works similarly with Treasure Cruise and Dig through Time excepts that casting it does not require you to delve away your graveyard, which means your second and third Bedlam Revelers are also costing only 2 Red mana. I won't be surprised to see this deck in any of the PPTQ or GPT soon as they seems to be performing quite well on MTGO.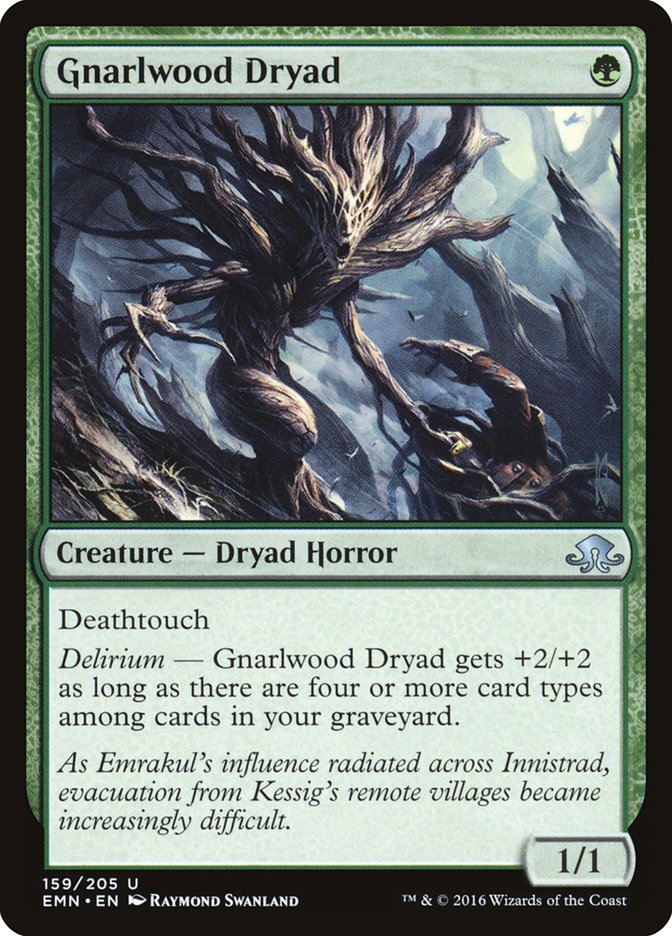 I assume everyone already know about Death's Shadow Aggro, also known as the "Suicide Zoo". In the recent GP, one of the player played 4 copies of Gnarlwood Dryads instead of Wild Nacatls. By looking at the decklist, it seems that the player likes the deathtouch-trample combination very much. Let's have a look at the list:

LOUIS BACHAUD'S DEATH'S SHADOW AGGRO
15TH GP LILLE 2016

Creature (18)
4 Gnarlwood Dryad
4 Death's Shadow
1 Ghor-Clan Rampager
4 Monastery Swiftspear
1 Tarmogoyf
4 Street Wraith
Sorcery (10)
4 Gitaxian Probe
4 Thoughtseize
2 Traverse the Ulvenwald
Instant (10)
4 Mutagenic Growth
1 Become Immense
4 Temur Battle Rage
1 Dismember
Artifact (4)
4 Mishra's Bauble
Land (16)
4 Verdant Catacombs
4 Bloodstained Mire
3 Wooded Foothills
2 Stomping Ground
1 Blood Crypt
1 Swamp
1 Overgrown Tomb
Tribal instant (2)
2 Tarfire

Sideboard (15)
2 Tarmogoyf
2 Grafdigger's Cage
2 Inquisition of Kozilek
2 Pyroclasm
2 Hooting Mandrills
1 Nihil Spellbomb
1 Ancient Grudge
1 Spellskite
1 Natural State
1 Gut Shot

This version of Suicide Zoo plays alot lesser copies of Become Immense. Instead, this player plays a 1-of Ghor-Clan Rampager and 2 copies of Traverse the Ulvenwald. I guess the idea behind this change is to make sure that there will always be Delirium for the Dryads (Become Immense might require you to delve away some of the card types) while making full use of Delirium by playing Traverse the Ulvenwald. I'm not sure how good is Gnarlwood Dryad in this deck without testing it myself but lets assume this deck can hit delirium easily, then replacing Wild Nacatls with Dryad makes sense since they are both 1 mana 3/3 but Dryad has deathtouch.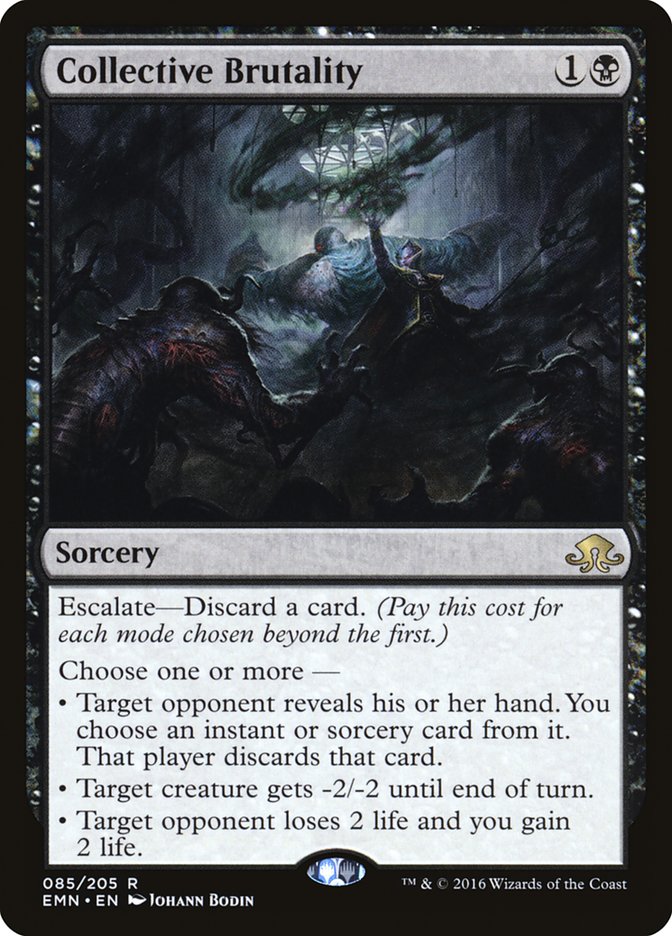 For the fifth card, I've been deciding between Collective Brutality and Liliana, the Last Hope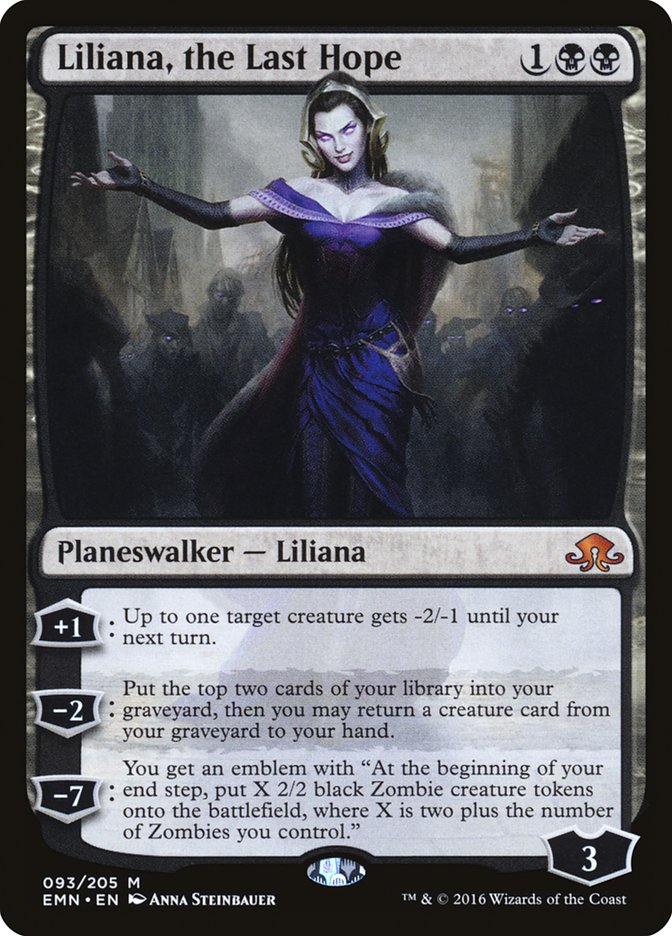 . I could just include both in my article but Collective Brutality should be able to fit into more decks in the future, while Liliana is probably just a 1/75 card of B/G decks. I've gone through many decks that play Collective Brutality, this is one of the list that has a solid finish:

REMI FORTIER'S JUND
10TH GP LILLE 2016

Planeswalker (5)
4 Liliana of the Veil
1 Liliana, the Last Hope
Creature (14)
4 Tarmogoyf
3 Scavenging Ooze
4 Dark Confidant
2 Kalitas, Traitor of Ghet
1 Kitchen Finks
Sorcery (8)
2 Maelstrom Pulse
4 Inquisition of Kozilek
2 Thoughtseize
Instant (9)
1 Abrupt Decay
3 Terminate
4 Lightning Bolt
1 Slaughter Pact
Land (24)
4 Verdant Catacombs
3 Bloodstained Mire
2 Wooded Foothills
3 Raging Ravine
1 Twilight Mire
2 Swamp
1 Forest
1 Stomping Ground
2 Overgrown Tomb
1 Blood Crypt
4 Blackcleave Cliffs

Sideboard (15)
1 Kitchen Finks
1 Abrupt Decay
1 Slaughter Pact
1 Thoughtseize
1 Slaughter Games
1 Pia and Kiran Nalaar
2 Collective Brutality
2 Kozilek's Return
1 Thragtusk
1 Pithing Needle
1 Painful Truths
1 Ancient Grudge
1 Fulminator Mage

From all the lists that played Collective Brutality, majority of them plays a total of 2 copies in the whole deck. Escalate is one of the most interesting mechanic out of Eldritch Moon and Collective Brutality is one of the most unique escalate card among all. Instead of paying extra mana to escalate, Collective Brutality allows you to escalate by discarding a card. This allows you to discard a card that you don't need to do something beneficial; or discard a card as part of your strategy (e.g. Lingering Souls, Prized Amalgam etc). Overall, Collective Brutality is a very good utility card that can disrupt your opponent's plan based on the situation.
Alright, that's all for the 5 EMN cards that entered Modern format. Before I end my article, I would like to apologize to all readers that I've not been producing enough articles lately because of work and health issue *cough cough*, but I will try my best to post more stuffs here. Also, I would like to remind you all to drink more water and try not to go out so often as the haze is getting worst these days. Once again, thanks for reading and I'll see you all again.

Signing out.